"As stated in the EU Policy on Training for CSDP: ´Training and deployment are interconnected´. An intense training week has now come to an end. We hope that the knowledge provided by our experts, the discussions and sharing of experiences have been of benefit in your preparation for deployment. On behalf of the organising team we are wishing you all the best in your upcoming assignments in CSDP missions and operations."
With these words ESDC Training Manager Isak Enstrom concluded the Pre-deployment Training for CSDP Missions and Operations that took place from 6 to 10 March 2023. The European Security and Defence College (ESDC) had the honour of co-organising the training activity together with the Romanian National College of Home Affairs (CNAI). The training course was held in a hybrid format, with 13 participants attending in Brussels and 14 participants connecting online. The format allowed for new staff members, recently deployed, to attend from their mission setting, including from the new civilian CSDP mission in Armenia. There was a diverse group of participants, soon to take up a wide range of functions in ten of our CSDP missions and operations, both civilian and military. This diversity of expertise coupled with various levels of previous mission experience added to a dynamic atmosphere in which the group actively participated in sharing their experience. The Pre-deployment Training is a vital part of the preparation of personnel about to deploy to civilian and military CSDP missions and operations. The overall aim of the training is to ensure that personnel are suitably prepared so that they can integrate into mission life and be operational as soon as possible upon deployment. The training focused on enhancing the overall understanding of CSDP missions' functioning principles and providing an insight into the latest policies, instruments and tools available to fulfil the mandate. One element that participants particularly appreciated was the unique opportunity to meet and interact with the respective mission/operation Points of Contact (PoCs).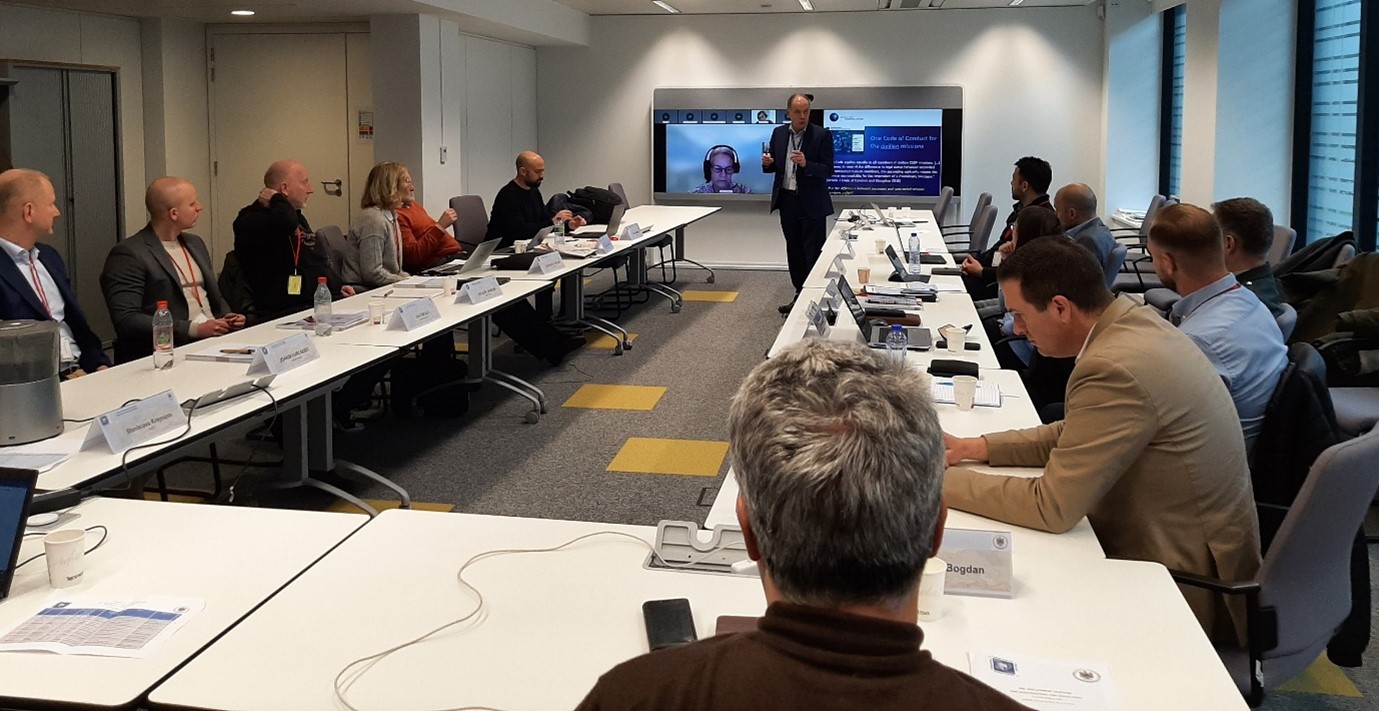 Chris Starmans, Policy Officer – Code of Conduct at CPCC, delivering a session on the application of the Code of Conduct and Generic Standards of Behaviour.
The ESDC would like to thank all the speakers who gave presentations at the course. Their dedication, availability and excellent subject-matter expertise contributed to the successful implementation of the course. Also sincere thanks to the group of participants for their motivation, active engagement and commitment throughout the intense training week. Lastly a special thanks to the Romanian National College of Home Affairs (CNAI) for their excellent cooperation in the co-organisation of the course.