From 17 to 21 May 2021 the ESDC had the honour of co-organising in Larnaca, Cyprus, together with the 
Cyprus Ministry of Defence
 the Academy of Security and Defence, the
Cyprus Academy of Public Administration
, the 
PM² Alliance
  and the
State Bureau for Training, Further Education and Personnel of the North Rhine-Westphalian Police 
(LAFP), a tailor-made course on the use of the European Commission's 
PM² Project Management Methodology
  to support CSDP Missions and Operations. All co-organising institutes are well-known training providers with significant experience in delivering high-quality, structured training programmes. The seminar was attended by civ-mil personnel from 7 EU Member States, EU missions in Ukraine (EUAM UKRAINE) and Mali (EUTM MALI), EUROCORPS and FRONTEX. The entire course was based on a realistic scenario in a fictional failed State. The scenario really helped the participants gain a better understanding of how the methodology applies and how it can be better adapted to their 'environmental needs'.
The course was fairly intensive, with over 70 % of the time spent on practical workshops. All participants were given the opportunity to implement the methodology and see the benefits that could be derived from using it.
One thing that should be highlighted was the interest expressed by a number of course participants in acquiring a clear view of the relationship between DG INTRA's (former DEVCO) Project Cycle Management (PCM) method and the PM2 Methodology. During the course we covered all aspects of this relationship in detail, including similarities, differences and complementarities (we will not share any further information here in order to lure you into our next course).
In the meantime, participants have already started sharing their feedback (through an official, Kirkpatrick-based post-course evaluation survey) and their kind words really compensate for all the efforts made to organise and deliver such a demanding course, especially under the COVID-19 restrictive measures.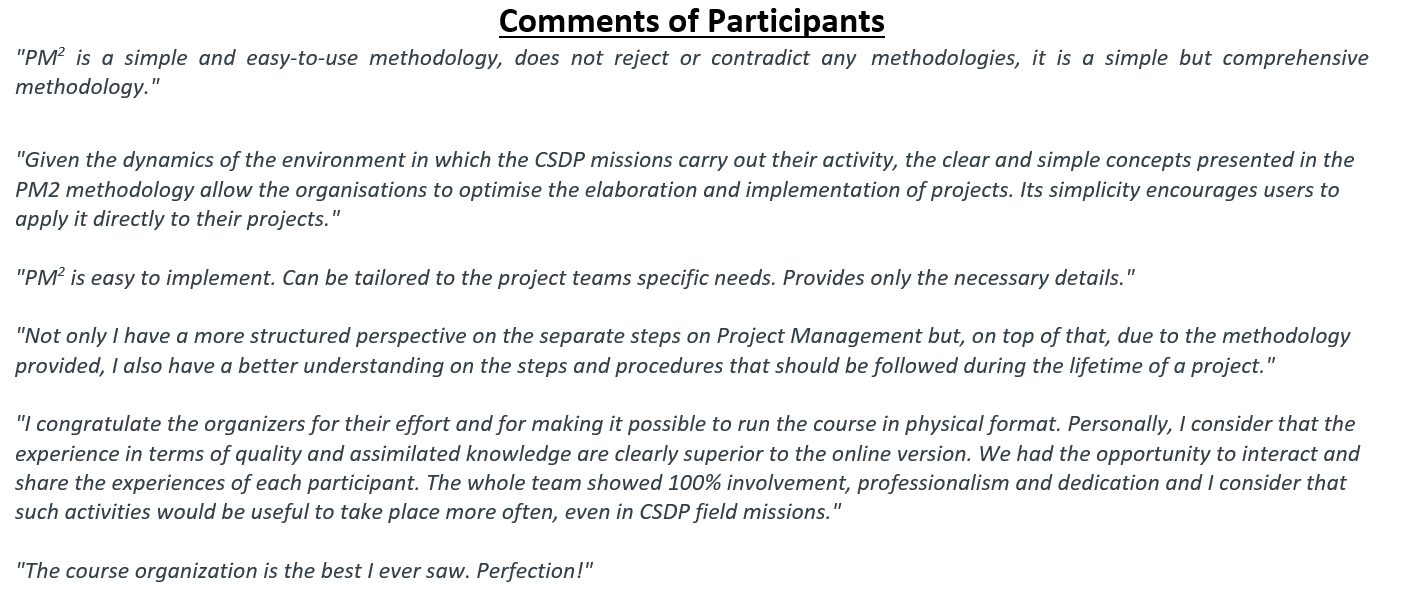 We should thank our hosts and keynote speakers, and particularly:
We would like to thank all participants for their trust in the ESDC and we promise to continue providing training courses to the highest standards.