Participants from EU Member States and from third states came together in Brussels for the ESDC's fully residential cyber course 'Cybersecurity and International Law', from 23 to 25 of January 2023. More than 30 participants, civilian and military, working in different fields and focused on law and cybersecurity, had the possibility to exchange views and share best practices on cyber-related topics while improving their knowledge, skills and competencies.
It has been a great honour for the European Security and Defence College (ESDC) to co-organise for the first time this important cyber activity with the Łódź Cyber Hub, a research centre representing the University of Lodz, Poland. This pilot course, after the approval process, could become part of the standard list of ESDC's curricula approved by the 27 EU Member States. This course offers a practical approach to the application of international law in cyberspace. It is focused on current geopolitical challenges and pragmatic solutions. Several crucial cyber topics related to the International Law under the cybersecurity domain were discussed during the three-day course: • Applying international law in cyberspace • Digital sovereignty • Armed attack in cyberspace – passing the Article 51 UNC threshold • Cyber sanction and the EU diplomacy toolkit • Internet governance, multistakeholdersim and international lawmaking • International jurisdiction in criminal cases • CoE Budapest convention on cybercrime • Challenges in online platform content moderation • Open Source Intelligence and cyberespionage • Privacy and data protection in cyberspace • Freedom of expression, disinformation and hate speech online • Global Governance of LEO Satellite Broadband • Cybersecurity Due Diligence • DNS4EU and splinternet scenarios • European cybersecurity and European Critical Infrastructures By the end of this course, the participants will be equipped with the practical knowledge and skills to address contemporary international law issues in cyberspace. This cyber course is one of several cyber activities organised by the ESDC Cyber ETEE platform (cyber education, training, exercise and evaluation). The overall aim of the platform is to address cybersecurity, to provide defence training to civilian and military personnel, and to include CSDP requirements in all relevant training for EU Member States. The platform deals with all domains of cybersecurity, including cyber crime, network information security, cyber defence and external relations.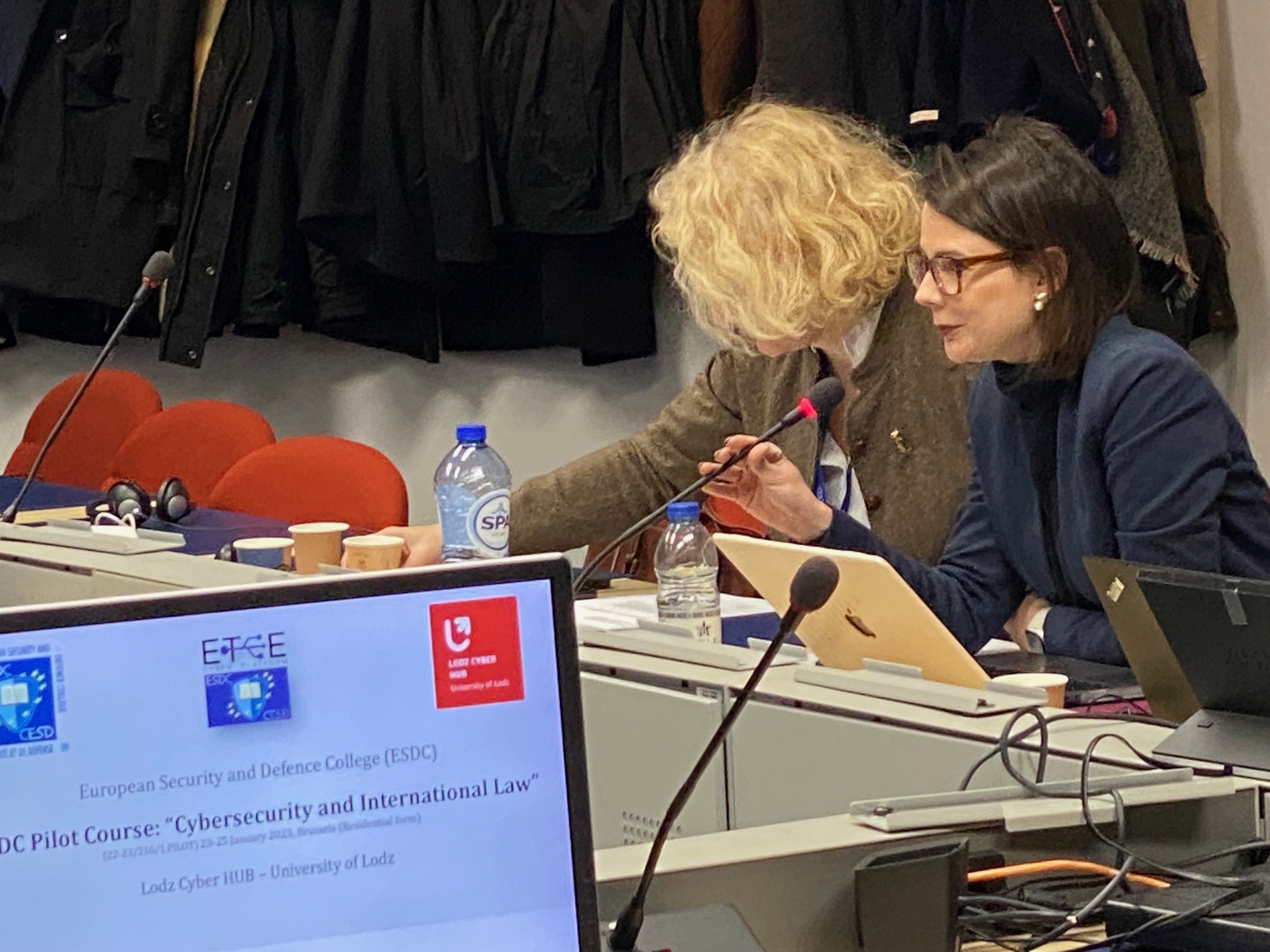 We would like to thank the Lodz Cyber Hub for the great job and their efforts to deliver an excellent result, as well as the lecturers on the course and all the participants in the Cybersecurity and International Law class 2023 for their hard work and professionalism.