A real milestone reached – First graduation of a PhD Fellow from ESDC Doctoral School!
In 2017, when the idea to establish an ESDC Doctoral School focused on Common Security and Defence Policy was first discussed, many institutions showed their interest and contributed to the development of such project. The Doctoral School was officially inaugurated in November 2018 and since then a major effort has been made to offer new training and research activities and events, and encourage new Fellows to join us each year, ensuring gender balance. Our aim to establish a vibrant and diverse student community on CSDP in the wider framework of CFSP consisted of talented researchers and practitioners from all member states is still in progress. On Friday, 25.02.2022, in Brussels, under the auspices of European Security and Defence College, Ambassador Álvaro Renedo Zalba, PhD fellow from Universidad Nacional de Educación a Distancia (UNED) – Madrid and enlisted in our Doctoral School Programme since 2019, publicly defended his thesis entitled THE LISBON TREATY AND TRANSATLANTIC DIALOGUE: SIGNIFICANCE AND INEFFICIENCIES. The dissertation addressed the debatable cooperation between the United States and the European Union, the dynamics of institutional development and, in particular, the effect of the Lisbon Treaty on this uncertain relationship, concluding that the Treaty has had feeble results in contributing to the amelioration of US-EU cooperation. The dissertation also highlights the pivotal consequences for the security dimension of the transatlantic relationship, specifically on NATO and the EU's Common Security and Defense Policy (CSDP). Making use of an innovative research methodology, this first measurable result of the ESDC `s research makes an excellent contribution to EU and security studies. It is an exceptional and comprehensible tool to assess and understand, and this makes it capitally valuable for both the academic and the EEAS environment.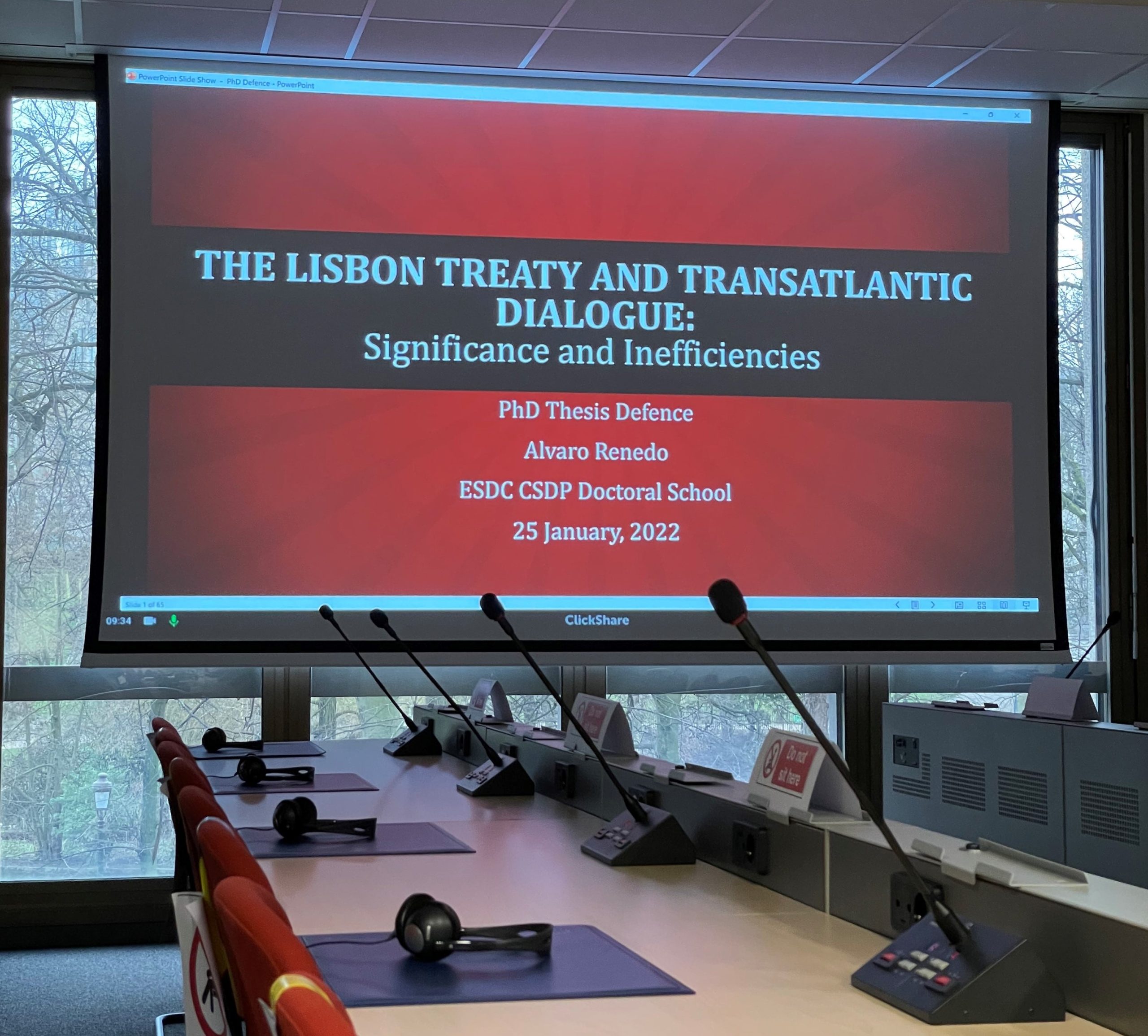 The jury, composed of Prof. Foteini Asderaki (University of Piraeus), dr. Georgică Panfil (ESDC) and dr. Andrés de Castro Garcíaa, having exhaustively appreciated, was delighted to unanimously conclude that the dissertation of Álvaro Renedo Zalba fulfils distinctively the requirements for the award of the degree of Philosophiae Doctor in the domain of European and International Security Studies. A very fist, yet well deserved
Cum laude
for mr. Renedo.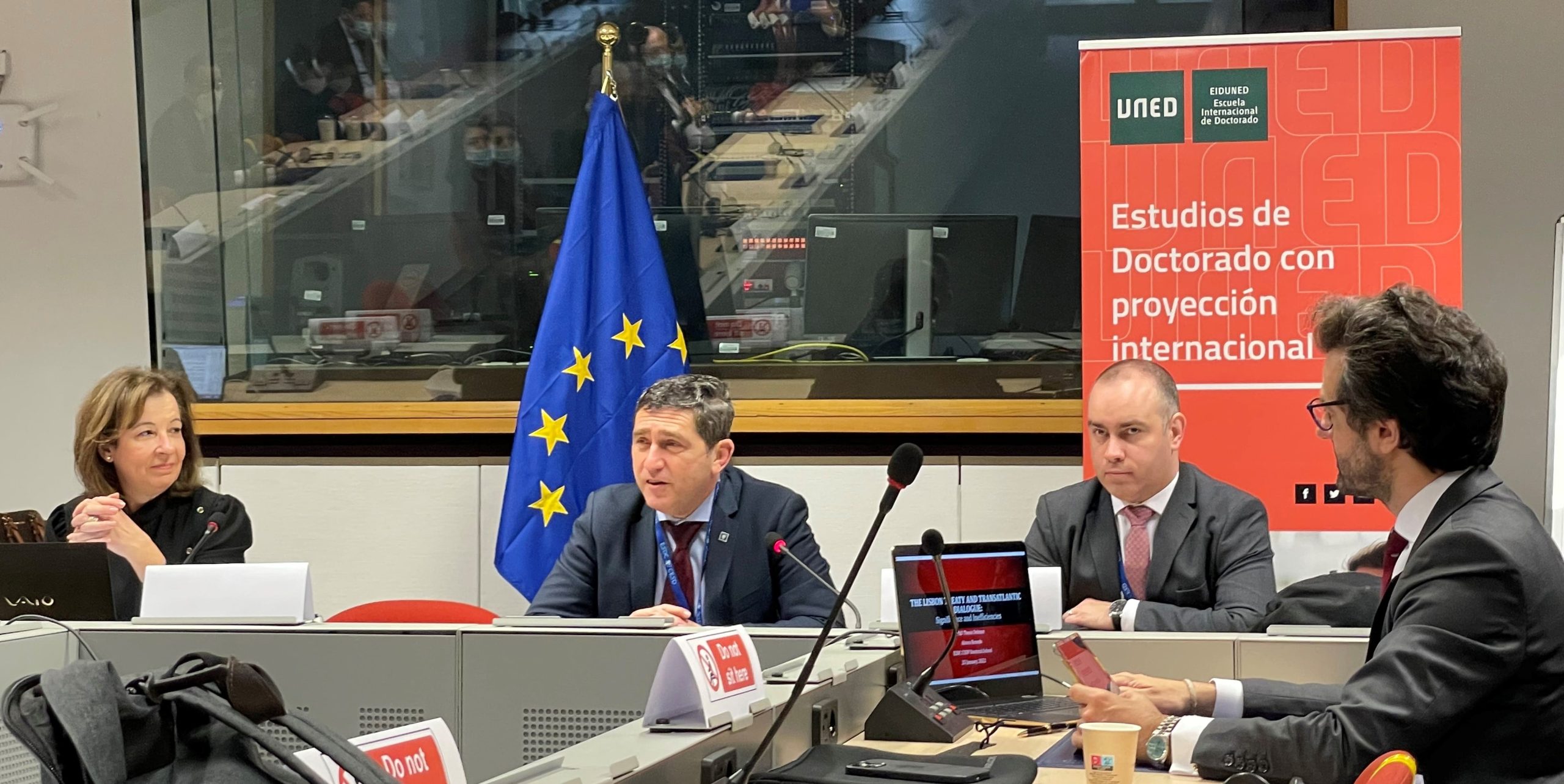 We were delighted by the flexibility and support of
UNED –
they did everything in their power to have the thesis defended in Brussels and focused on ESDC Doctoral School experts when appointing the jury. In addition, warm commendations for our freshest PhD – Ambassador Álvaro Renedo Zalba and his thesis supervisors Prof Miguel Requena and Prof Araceli Mangas. What is next now? For sure, while being the first, this is not to be the last. Out of the 25 fellows registered (10 others expected to join ESDC Doctoral School this year),  some others are preparing their defence for 2022 – and we are all equally excited and ready to support them! Vivat Academia!